One of the top leading Manufacturer, Supplier and Exporter of White Sugar Sticks in Ahmedabad, Surendranagar, Gandhinagar, Vadodara, Bhavnagar, Bhuj, Mehsana, Junagadh, Jamnagar
If you are looking for superior quality  white sugar sticks ,then you are at the right place at Dhanraj Sugar is the one end destination. Now our customers can enjoy the convenience of White Sugar Sticks anywhere. Easily packed in single serve sticks, it's clean and simple way to sweeten hot and cold drinks in the office, at home and on picnics. There's no more mess, less waste and easy to store. The sugar sticks contain just the right amount of fine white sugar for one cup. It is easy storage, less mess and no wastage – so handy for entertaining at home, taking away when on holidays, or for the office.
Uses of White Sugar Sticks
Cafe quality sugar at your home, office kitchens and tea rooms
Used in Restaurants, Hotels, hospital, Cafes, Airlines, Hospital, Corporate office etc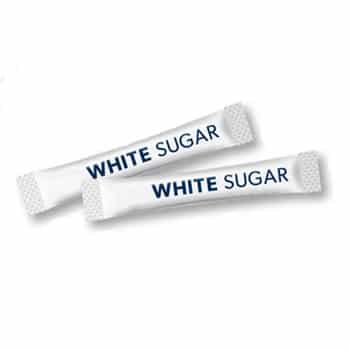 Features of White Sugar Sticks
100% Natural
Cafe quality sugar at your home, office kitchens and tea rooms
Portion controlled, single serve stick
Sweet, pure sugar taste
White sugar crystals
We make sure to deliver the precise product what you pay for. We entrust to satisfying all your necessities within predetermined time period. At Dhanraj Sugar Pvt. Ltd., we offer our complete range at a competitive market price. To place an order for the same, feel free to contact us.