Manufacturer, Supplier and Exporter of Raw Sugar Sticks in Andhra-Pradesh, Madhya-Pradesh, Uttar-Pradesh, Kerala, Tamilnadu, Maharashtra, Coimbatore, Rajasthan, Delhi
Dhanraj Sugars is well-known Raw Sugar Sticks suppliers from India. This is generally is not same as brown sugar it goes under minimal process to come in its exact position. Our offered Raw Sugar Sticks that offer the convenience of individual sugar portions, which means easy storage, less mess and no wastage – so handy for entertaining at home, taking away when on holiday, or for the office. The offered Raw Sugar Sticks are with its golden colour, and honey-like taste and it is as a sweetener for coffee and tea, or in baking and cooking where it improves the flavor and colour of the end result.
Used as Sweeter hot drinks like hot milk, tea or coffee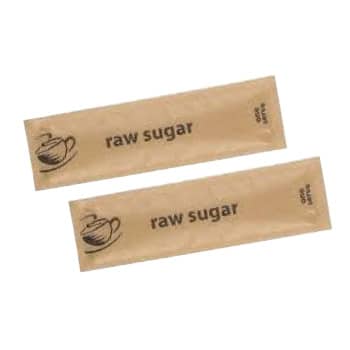 Features of Raw Sugar Sticks
Single serve portions
Hygiene
Easy storage
No wastage and less mess
Contains minerals like phosphorus, calcium and iron
Healthier than all other forms of processed sugar
Less calories compare to White sugar
We make sure to deliver the precise product what you pay for. We entrust to satisfying all your necessities within predetermined time period. At Dhanraj Sugar Pvt. Ltd., we offer our complete range at a competitive market price. To place an order for the same, feel free to contact us.